illian
leary &
ollin
atterson

Lillian Cleary, the youngest child of Thomas and Harriet was born at Rushworth in 1901. She married John Collin Patterson at Saint Mary's Roman Catholic Church, Rushworth on the 5th February 1921. Collin Patterson came to Australia before World War I and enlisted in the Australian Army. He served in France where he met Bert Cleary who was to marry his sister, Lily. On his return to Australia he visited the Clearys, at Rushworth and met Lillian.
Collin & Lily Patterson »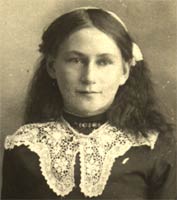 After their marriage, Lillian and Collin left to live on a dairy farm at Murchison East. The farm was called 'Snake Farm' because of the large number of snakes found there. Their eldest child Margaret Jean was born whilst they were living at this location on the 13th December 1921.
Marjorie (Marnie) was born on the 11th November 1924 and Norma Betty on the11th October 19625. John Collin was born in 1927 but lived only seven hours and Douglas Allan (Bill) was born on the 9th September 1930.
The family moved with the mass evacuation of the Clearys to the Mildura district, where they were to live on a Soldier-Settlement wheat farm at Boonoonar, twenty-seven miles south of Mildura, near Carwarp. As with all the Mallee Farmers at that period, times were tough. They left the farm in 1934, and after a short time in Mildura they moved to Melbourne. Collin worked with the State Rivers and Water Supply Commission on several construction jobs throughout Victoria, including the Yarrawonga Weir.
Collin joined the Garrison Forces at the outbreak of the War in 1939 and later joined the Second A.I.F. He was discharged as medically unfit in 1945 with an illness that stayed with him until his death in March 1956. Lillian had not enjoyed good health for most of her married life and had died two years earlier in 1954.
Jean Patterson worked as a machinist after leaving school and married Arthur (Dink) Wheeler who worked in the Age office for forty-two years before retiring. Jean died in 1986 after a long illness. The family has lived at East Brighton since the 1940s.
Marjorie enlisted in the A.W.A.S. during the Second World War. She was a lamp-operator and on radar control. After the War Marjorie worked as a secretary for several years and then went nursing until 1954 when she married Joseph Haebich. Joseph worked for the State Rivers and Water Supply Commission at Torrumbarry Weir until his retirement in 1981.
Betty married Brian Wheeler on the 24th November 1949. Betty and Brian lived most of their married life in Mount Evelyn. Brian worked with the P.M.G. and Telecom and was killed in a car accident in September 1971.
Bill, after roaming for some time settled in the Latrobe Valley at Yallourn where he worked for the S.E.C. He became very active in the Electrical Trades Union and today is a Life Member. When he was twenty-eight he met a widow, Phyllis Hall, with six children. They were married in 1961. Bill was also very involved with the local community and worked for many causes, including 'The Save Yallourn' project. He has been retired for several years and is not in good health. He spends much time in the Latrobe Valley Community Hospital.
An interesting facet of this family has been the continuation of a trend created by Lily and Collin Patterson marrying Bert and Lillian Cleary respectively. In the next generation two daughters of Lillian and Collin Patterson, Jean and Betty, married two brothers, Arthur and Brian Wheeler. Two children of Jean and Arthur Wheeler, Patricia and Robert, married Kevin and Janice Ortlipp respectively.