om &
lice
leary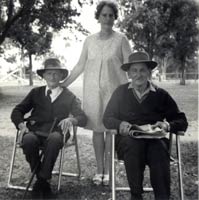 John Thomas Cleary was born at Rushworth in 1882. He was the eldest child of Thomas and Harriet Cleary. Like his brothers he worked on many locations in the Goulburn Valley. He worked on building the Waranga's Basin's bank, the Waranga-Mallee Channel as well as wood-cutting, fencing and farm-work.
In 1913 Tom rode a bicycle to Carwarp in the Mallee with his brother Bert. After the war he selected a farm at Carwarp and proceeded with the difficult task of clearing the land. In these early days Tom, Alf and Bert worked together and Maggie kept house for them.
Tom's brother Bill then came to Carwarp with his wife Julia. Julia's sister visited Carwarp whilst on holiday where she met Tom. Tom and Alice were married in 1928. This marriage is part of the family trend for siblings to marry siblings.
Tom and Alice had one daughter Theresa who was born in 1930.
After a run of droughts the family left the Mallee in 1936. They went to Stanhope where Tom found work with the State Rivers and Water Supply Commission. They later moved to Nathalia and then to Waaia with Tom continuing to work for the Commission. Tom and Alice had many friends in Waaia. Tom loved outdoor activities particularly fishing.
Alice died in 1968 and Tom died in 1974 at the age of ninety-two.
Theresa was educated at Stanhope and Nathalia State Schools and Nathalia High School and did cleaning work after leaving school. In 1953 she married Ken Freestone who was a carpenter for the State Rivers and Water Supply Commission. They have lived at Mooroopna ever since.