ilda
leary &

ohn
yan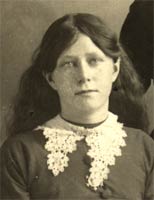 Ann Matilda (Tilda) Cleary was born at Rushworth in 1900. Before marriage she worked at Barrot's Hotel in Rushworth. On the 1st June 12921 she married John Patrick Ryan at the Rushworth Catholic Church. They settled on a fifty-two acre farm on Kilmartin Road at Girgarre East where they raised eight children; John Thomas, Alfred Francis, Helen, Sheila, Michael, Patrick Joseph, Shirley Anne and Noel.
All the children were educated at Girgarre East State School, a two mile walk from their home. Michael attended school for five years and Sheila, Pat and Noel for six years without missing a day. Sheila continued her education at Tatura Sacred Heart Convent where she gained her intermediate certificate. Sheila commenced nursing at Prince Henry's Hospital and continued on to the Royal Women's to do midwifery. She gained the D.C. Certificate of Nursing and continued with a long and successful career.
Michael, Pat, Shirley and Noel all gained their Merit Certificates and left school because of necessity. Jack, Frank and Helen had left earlier for the same reason. Jack, Frank, Michael, Pat and Noel worked on local farms and orchards after leaving school. Jack and Michael later joined the S.E.C. at Yallourn and worked there for many years. Shirley worked as the postmistress at Girgarre East and later as a nursing-aid in Echuca and Melbourne hospitals. She was admired by all for her gentle manner. Helen spent her working life at the Presbyterian Ladies College, Melbourne. Frank, Jack, Pat and Noel all went shearing. Whilst Pat and Noel continued shearing, Frank left to work at the Stanhope Butter-Factory and Jack went back to Yallourn.
After some time frank and Pat went to work in Melbourne and Noel gained employment on the Shepparton Shire Council. Frank enlisted on the 29th November 1941, was on active service and was discharged on the 29th June 1942. He served as a gunner. Pat was in the National Service from 1952 to 1957 and Noel from 1954 to 1957.
Pat won the open hundred yards flat race at Tatura School Sports in 1947 and was Boy Champion for that year.