homas  and  

arriet  
leary


John Thomas Cleary was born at Footscray in 1859. He was the eldest son of John and Ellen Cleary, catholics who both came out from Tipperary, Ireland during the 1850's. John & Ellen were married on May 17th1858 at St Francis Church Melbourne and had five children, Thomas, James, Patrick, Mary & John. Thomas was a horse dealer. Mary married a Mr. Featherton who owned a dairy in Footscray. It is believed that Patrick went to N.S.W but nothing is known of James & John.
Harriet Owen was born at Heathcote in 1858. She was the daughter of Mr and Mrs William Owen who travelled by bullock dray from the Yorke Peninsula in South Australia to the Victorian Goldfields. The other members of the family were; Dick, Tom, Sam, Margaret (Mrs Shewan), Annie (Mrs Potter) and Elizabeth (Mrs Matthews). Harriet's father, William Owen, was a Welshman who had come from Chipping Norton in Oxfordshire England.
Thomas and Harriet were married at Heathcote in 1882. They lived at Waranga and probably had a block of twenty acres. Thomas was the herdsman of Rushworth Common. In 1906 the Waranga Basin was ready to be filled with water. The water from the Goulburn River was released into the basin on August 13th. The Cleary's were given notice to move. Previously the two back rooms of the Cleary's home had been flooded. Harriet refused to budge and declared that she would not shift if the water was up to her neck. They could drown the whole family if they dared do so. At this stage the Water Supply Department refused any calls for compensation. The situation was creating national interest as the cartoon in the 'Bulletin' indicated. The water was turned on and rose four inches per day. Soon water was two feet deep in the house. Still Harriet refused to budge. Just when a tragedy seemed inevitable the water was turned off.
"I'll see your Government wrecked first!"

says she.

« Harriet Cleary to Mr Bent
'The turning of the flood waters of the Goulburn River into the Waranga Basin (Victoria) next week will raise the water in the basin by 6ft. There are two houses below what will then be water-level. One is occupied by Mrs. Thomas Cleary, who announces that unless she receives compensation for the loss of the house she will stay in the old home until the Government drowns her. The Government has given her notice to quit, and has declined to recognise any claim to compensation.'


The Bulletin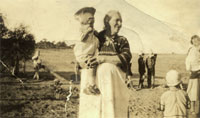 The Rushworth Chronicle of the 24th August 1906 records the climax of the case. 'On Friday last the matter was discussed at a meeting of a Cabinet at which there were present some members who are apparently imbued with a spirit of fairness for the outcome was an offer of twenty pounds as a solution to Mrs Cleary if she would go. By this time the lady's ire was aroused and she disdainfully declined the offer. Things were at a deadlock and regret was expressed by those who knew Mrs Cleary, for they were pleased to see her recompensed, if it was only to the extent of twenty pounds. The position occupied by Mrs Cleary was untenable and wiser councils prevailing, she on Wednesday afternoon resolved to quit and forthwith resolved to dismantle the old home. She will now get the twenty pounds compensation which the family can well do with.' Many Clearys have shown stubbornness over the years, it is easy to see where this originated.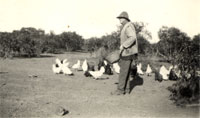 The family moved too a new home known as 'Foxdale Park' between Rushdale and Murchison. Cleary's lane now leads to where this house was. My father (Bert) recalled with great fondness the Sundays when everybody seemed to descend on the Cleary Home and all sorts of sporting activities took place. The sons left school at the age of twelve or earlier and worked over large parts of the Goulburn Valley. Three sons Alf, Richard and Bert served in World War I
In the 1920's Thomas and Harriet moved to Carwarp and lived with Bert and Lily Cleary. At Carwarp Thomas and Harriet were once again close to many of their sons and daughters and were able to have contact with their grandchildren. Thomas died in 1932 and then Harriet lived with Will and Julia Cleary until her death in 1943
Thomas was a quiet and gentle person and was renowned as a great horseman. Harriet as the Basin story indicates was a person of great character. It is recalled that she really enjoyed an argument. There is no doubt they were great Australian pioneers.